More than sun and beach, Lanzarote combines nature and art. With a mild climate all year round, this island has more than 25 volcanoes and magical places that you can not miss. With Tracks Lava you have the opportunity to discover the lunar landscapes of Lanzarote in a different way, pedaling a mountain bike.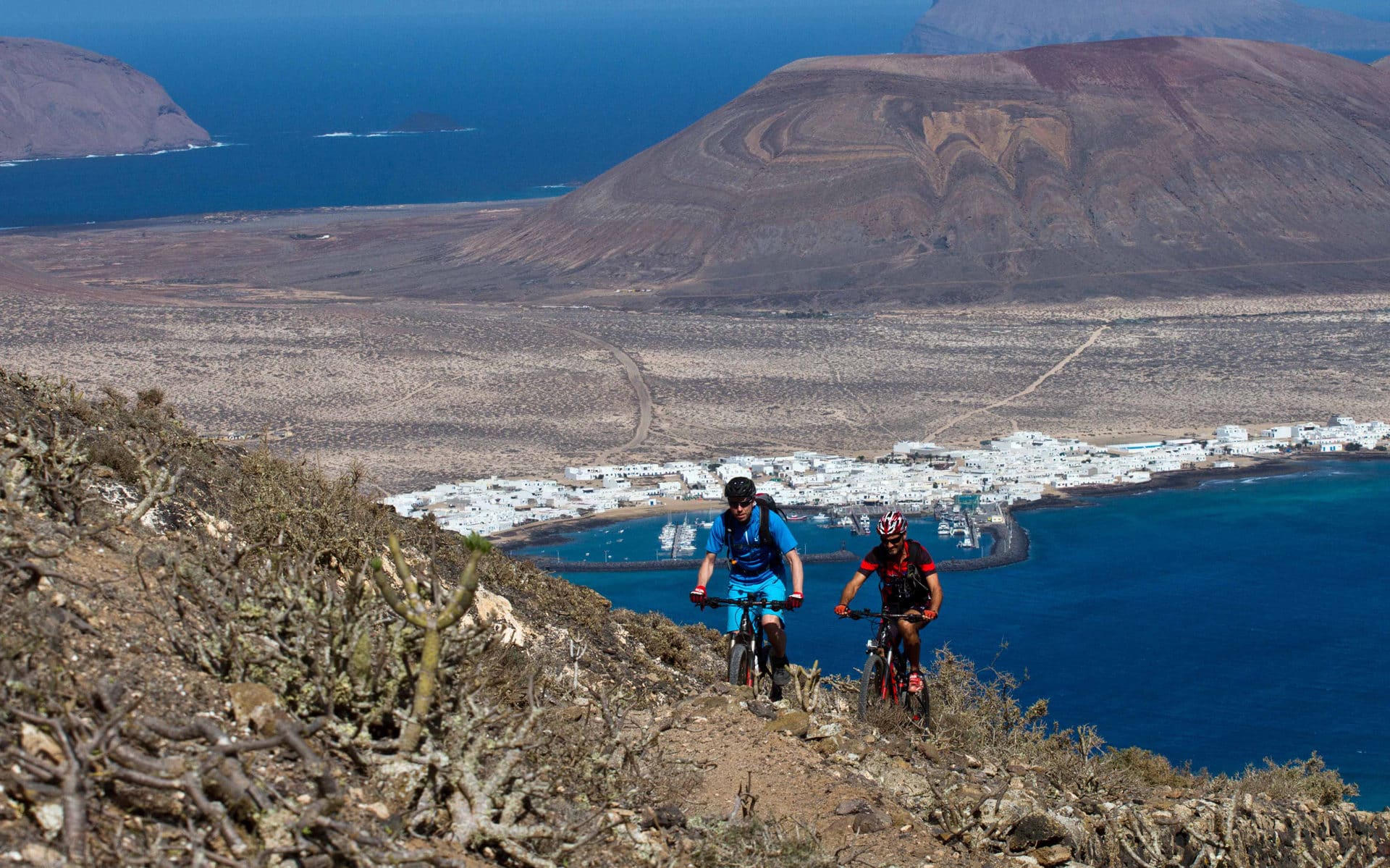 Feel the power of the Atlantic Ocean while cycling in Lanzarote.
Lanzarote is a different island and goes beyond being a sun and beach destination. If you visit it, you will be able to see for yourself its charm. Volcanic landscapes, white sandy beaches, typical villages, vineyards and pure nature.
That's why, at Tracks Tour we have the perfect option to get to know the island in a totally different way. Come with us and get into the real paradise for mountain biking and hiking. Discovering paths, tracks and trails that will make you forget the Canarian cliché of beaches and palm trees. Live an unbeatable experience of tranquility, tradition and beauty pedaling through the island of Lanzarote. .
And, if you wish, Tracks Lava will take you even further. We offer a version of the route that passes through the wonderful island of La Graciosa. A highly recommended stage, so much so that those who have already done this route have been totally in love with this small Canarian paradise. And you, would you like to get to know it? Below, we tell you about the different options of Lava Tracks that you can find in Lanzarote, whether you are a cyclist or if you prefer a hiking alternative.
Tracks de Lava: the tour around Lanzarote by MTB
Prepare your mountain bike to get to know another planet, a mineral and primitive planet. Avoiding the asphalt as much as possible and getting into the spirit of the island until we blend in with it.
In Tracks Tour we adapt to your needs as cyclists and we offer three different ways to make this MTB route. We have the classic version, the Slow version for a quieter ride and the Plus option for lovers of great challenges. You choose!
Ah! And if you are more of a hiker, you are also in luck. Tracks Lava Trekking is an option you won't want to miss to discover Lanzarote on foot.
Tracks Lava Classic
MTB lovers, amateurs and experts, Classic Lava Tracks is for you. This route is circular and its starting point is in Puerto del Carmen, in the southeast of the island. It has an approximate distance of 250 kilometers and 3500 meters of positive elevation gain, depending on the stages you do it. Choose the route that best suits your needs, you can choose between 3 and 7 stages. We recommend doing it in 5 days, as it is the most balanced way to do it. If you choose the 6 stages, you will travel through the beautiful area of the Gulf and the coast of Los Hervideros.
Tracks Lava Slow
Would you prefer to enjoy a quieter ride? Tracks Lava Slow is a route without long distances or technical sections. You will start in Costa Teguise and your route will be on easy tracks and quiet roads with some easy trails.
It has a mileage of 190-220 kilometers and a cumulative positive elevation gain of 1700-2100 meters. You decide how to do it, in 6 stages that pass through the natural wonders of the Gulf, Los Hervideros and Salinas de Janubio, or in 5 days avoiding that part of the journey. If you want to enjoy it to the fullest, we suggest you do it in 6 days, there will be nothing left to discover!
Tracks Lava Plus
A version specially designed for the most adventurous, those who are always looking for new challenges. Tracks Lava Plus is a route that tries to avoid asphalt as much as possible and seeks both the beauty of the landscape, the logic of the route, as well as passing through the most fun sections. The route is 269 kilometers and 5750 meters of cumulative positive elevation gain. With this option you can add to your tour the stage that passes through the island of La Graciosa. To which they will add almost 300 kilometers and more than 6000 meters of accumulated positive difference in altitude.
We remind you that Tracks Lava Plus is very demanding. The type of terrain, slopes and technical difficulties are designed for cyclists with a high physical and technical level.
Lava Trekking Tracks
Hikers, it's your turn! Tracks Lava Trekking is a pure trekking route in Lanzarote. Dare and cross the island from south to north along with the small island of La Graciosa, passing through spectacular places difficult to forget.
In this case, it is not a circular route. Your starting point will be Playa Blanca in the south of the island. The town of Uga will be your next destination, passing through Tinajo and Caleta de Famara, the latter known as the most impressive beach of Lanzarote. You will continue through Haria and Orzola to visit the island of La Graciosa, the end of your tour.
Without reaching 100 kilometers, Tracks Lava Trekking can be done in 5 or 6 stages. You will walk through landscapes never seen before, getting to know a virgin and primitive Lanzarote that will change your idea of the Canary Islands.