We propose an incredible journey in stages by mountain bike through one of the most popular places in La Rioja. Combining culture, sports, nature and wine tourism. The visual spectacle of this territory will turn your MTB trip into a unique experience. This is Tracks La Rioja, cycle tourism, vineyards and wineries.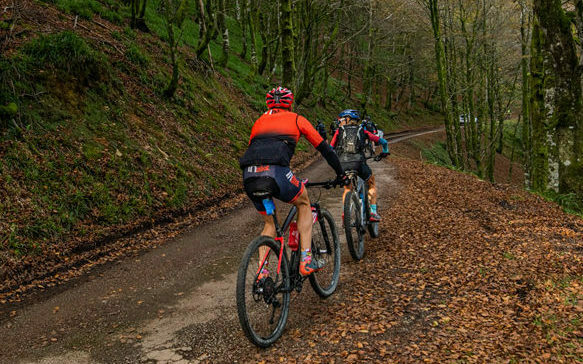 The wine territory in a unique journey
Tracks La Rioja is not only a bicycle trip in stages, but much more. This route will allow you to discover the charms of the land of wine while riding your MTB through the vineyards of La Rioja Alta and from the heights of the Sierra de Cantabria and the Sierra de la Demanda.
In addition, you will have the opportunity to visit century-old wineries with modern facilities dedicated to the production of the best wines.
During your trip you will pass through some of the most beautiful villages in Spain, so the important thing is to enjoy the environment, admiring the beauty of its landscapes while riding your mountain bike.
If you dare with Tracks La Rioja your tour will start in the capital, Logroño. Your first stage will take you to La Guardia (Álava), a beautiful village located on top of a hill surrounded by walls. From here you should not miss a visit to its cellars, since the entire subsoil of La Guardia is a labyrinth of cellars and cellars.
Your trip will continue through the municipality of Briñas (La Rioja) in the Sierra de Cantabria. A charming village with cobblestone streets and ashlar stone houses with coats of arms.
The last stop on your route before returning to Logroño will take you to Ezcaray, at the foot of the Sierra de la Demanda mountains. Undoubtedly, a beautiful village in La Rioja that will impress you. The ochre and reddish colors of its architecture and the greens of its nature make it a paradise for rural tourism.
Tracks La Rioja, a whole MTB experience
Now that you know what places you will visit during this route. We will tell you the most technical details that you should take into account once you decide to do it.
Tracks La Rioja allows you to choose between 4 and 5 days, visiting wineries at each stage. If you choose the 5-day version, you will be able to go deep into the mountains and enjoy the beautiful village of Ezcaray.
The route is 231 kilometers long and has a cumulative positive elevation gain of almost 6000 meters. For the most part, the terrain runs on tracks and trails that are 100% cyclable. Including some asphalt stretches in order to get into hidden and idyllic valleys.
This route is suitable for bikers who want to discover the wine culture. Even if you don't like wine, the colorful spectacle of the vineyards that shape this territory will turn your trip into an MTB that will permeate all your senses.
We recommend this trip at the end of summer or during the spring and autumn seasons to discover its mountains and trails while appreciating the beautiful landscapes full of color that the environment offers.
Will you choose this route for your next MTB trip?